Steps to creating a successful B2B marketing strategy
Creating a marketing strategy is never an easy undertaking. There are many factors that one has to take into consideration and there are many ways to stray from success and make mistakes. In our previous article, we explored the topic of B2B digital marketing strategies and what the most important ones are. Today, we expand more on the same subject matter, by looking at the process of creating a successful B2B marketing strategy. When you really get into it, it comes down to several fundamental steps that you need to follow and a lot of research and creativity in-between.
9 steps in creating a successful B2B marketing strategy
Every B2B marketer has their take on this particular task. Since there are so many variables, it can be vexing to come up with an effective marketing strategy. The following step-by-step guide can be considered a general starting point. Based on the specific needs of your business, you can modify it, add to it, or put more focus on particular stages of it.
Define your audiences and then divide and conquer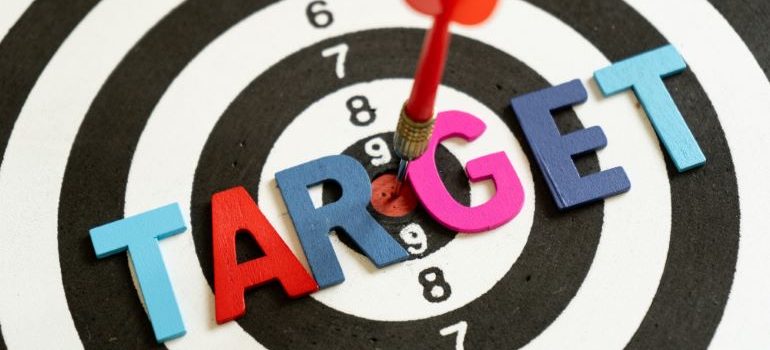 You will have little use of marketing channels if you don't have an understanding of who your audiences are. The more you learn about your customers and what their needs are, the easier it will be for you to satisfy those needs. Another factor that you need to take into consideration here is that as your customer base grows, so will the diversification of their shared needs. So, you will want to take an approach that will help you target specific groups through segmentation in your marketing campaigns.
The divide and conquer approach is one that has been around for some time and was tested in countless industries and aspects of life. So, if you want to create a successful B2B marketing strategy, you need to start by categorizing your audiences and creating separate campaigns for each category.
Invest in a responsive and credible website
Company websites have become a requirement for attempting online success. Therefore, building a user-friendly, functional, and informative website is a must-have when creating a successful B2B marketing strategy. This is the front desk of your digital presence, especially in the eyes of other businesses. Hiring a web design agency New York and building a website that is a visual portrayal of your brand's personality and product quality is your main selling point online.
When you have a website that is lacking in user experience and is unpleasant to look at, you are automatically turning off an unlimited source of potential clients. So, if you haven't done so already, make sure to schedule a web development consultation and start working on your website in terms of:
Engaging and quality content;
Visually compelling graphic elements;
Well-positioned CTAs;
The story behind your company;
Your brand values;
Reviews and testimonials;
etc.
Focus on generating leads
People have a specific problem for which your product or service is the ideal solution. And it's your job to make that connection for them and present it to them in a way that is logical and enticing. It's that simple. That's where the web spreads wider as there are many ways to achieve this task. So, it's up to your to start working on a digital marketing strategy that will tackle a variety of sources that will earn you leads for your business.
Mobile-friendly interface
Current data shows that there are more than 5.22 billion mobile device users in the world. That's a lot of potential customers to ignore by not making sure that your B2B marketing strategy is mobile-friendly. Therefore, your priorities in this particular matter should be to make your website mobile-friendly and fast. Once you have those bases covered, it will be easier to appeal to mobile device users online.
Content with call-to-actions
Every piece of content you create needs a purpose. Otherwise, you're creating content simply for the sake of writing. Therefore, you need to make sure to wrap it all up with a well-positioned and perfectly suited call to action (CTA) that is both appealing and engaging. That is the tie-breaker you need to push site visitors to turn into leads and leads to convert into customers. It is also an essential step in creating a successful B2B marketing strategy.
Value reviews and testimonials
Modern businesses still fall under modern consumers. As such, they are compelled by the need to get a confirmation in regards to the quality of your offer from other customers. One of the most practical and positive ways to go about building your B2B marketing approach is by using the voice of your existing customers. Let their words speak on your behalf and testify to the value of your product. So, you need to leave room on your website and in your campaigns for others to see the reviews and testimonials for your business. And the best part is that this is a tactic that costs you nothing – all you need are positive reviews.
Give credibility to your business through the introduction of a blog
As a business marketing to other businesses, you want to demonstrate your authority in your respective niche. And having a blog rich with a variety of information that is educational, useful, and overall credible is among the best ways to get your message across. It instills a sense of trust in your target audience, giving them the perspective that you understand their concerns and can answer their questions. Sharing your knowledge and using it to portray your product as a solution to countless concerns is the obvious way to go about building authority for your brand in the online community. It shows that you are not here to sell your product but to educate what you know about the industry.
Incorporate social media platforms in your B2B marketing strategy
Social media networks have become the driving force behind modern-day marketing efforts. If you want to engage with audiences on a global scale and learn more about your customers, you need to engage them through social media channels. All companies understand this, which is why the majority of businesses make sure to incorporate social media accounts in their business profile. Those that choose not to do so are choosing to operate with a handicap. So, if you want a B2B marketing strategy that will secure leads, you will want to turn your attention to social media. And this is also where the guidance of a professional social media agency can come in handy.
Always look for new ways to improve your approach
The digital world moves at an incredible pace. New solutions and competitors pop up every day. Therefore, it is important for your business and products to stay up-to-date. That is why you need to constantly question industry trends and how your product matches up against others. Only by investing time and resources into self-improvement can you truly maintain a dominant role in your niche and market.
Start working on your B2B marketing strategy today
As a B2B company and a digital marketing agency New York, we have a very clear understanding of the challenges of advertising to other businesses. It can be time-consuming and costly to come to those conclusions on your own, not to mention irrational. Instead, why not turn to someone who has already gone through the ordeal multiple times and has years of experience? Contact our team today and get a detailed plan for creating a B2B marketing strategy that will set you on a path straight to success.