A complete guide to Google Maps marketing
In the post-pandemic digital marketing world, one cannot underestimate the potency of Google Maps marketing. As more and more internet users turn to local businesses, local Search Engine Optimization (SEO) has surged in value. In turn, so has Google Maps marketing, which comes with a distinct overlap with it – though the two do describe different marketing practices, as we'll discuss below. So, as the digital marketing agency New York trusts, let us at Digital Dot explore the subject in due depth.
What is Google Maps marketing?
First and foremost, let's define the term, as it is an umbrella term that may include different practices.
In brief, "Google Maps marketing" refers to practices that optimize a business's presence and rankings in Google Maps. As we'll cover next in due depth, these primarily include:
As you can see, some such terms can overlap somewhat. Some marketers identify "Google Maps optimizations" as different from "organic Google Maps marketing". Others fold local SEO into either, or both, and so on.
So in all cases, our broader definition above should offer the safer option. That is, if a marketing tactic augments your Google Maps presence, it belongs under this umbrella.
Why does it deserve your time?
That said, you may wonder if it really deserves your time. Rightfully so; all forms of marketing take resources and time, and few can afford to overextend.
The short answer here is that yes, Google Maps marketing definitely deserves your time. For once, consider that Google Maps remains by far the most popular mapping app in the US, as Statista finds:
This alone should suffice for many; as more and more people use mobile devices to browse the internet and look up local businesses, Google Maps will only grow in turn.
Second, we may stress the aforementioned overlap with local SEO. Local SEO statistics like the following leave little room for doubt over its sheer value:
79% of companies are paying Google for online advertising, and 64% of consumers use GBP to find business addresses (according to Finances Online)
46% of all Google searches are looking for local information (according to HubSpot)
Over 50% of "near me" searches result in a physical store visit (according to Sullivan)
In brief, every business practice that can earn you Google's local favors and get you on Google Maps can yield immense benefits. Unless your business absolutely doesn't need local audiences, which very few can say, Google Maps marketing will pay off the manifold.
The components of Google Maps marketing
With introductions out of the way, then, let us explore each component of Google Maps marketing. As outlined above, the three main ones are the following.
#1 Local SEO
First and foremost, local SEO has become virtually synonymous with Google Maps marketing. This isn't fully accurate, as the former also delves into general search engine enhancements and the latter includes other practices. Still, it should illustrate just how closely-knit the two have become.
To elaborate, both local SEO and Google Maps marketing has a keen interest in mobile users. Indeed, mobile traffic has surpassed desktop traffic, and local search trends reflect this as well:
While desktop devices may seem the clear winner in this graph, notice the sum; 57% of local searches already come from mobile and tablet devices.
In addition, local SEO primarily hinges on an impeccable GBP profile and optimal activities therein. That's why NYC social media trends increasingly see social media marketing overlap with local SEO too. Google Maps relies on GBP quite heavily too, so the overlap becomes too substantive to ignore.
In brief, local SEO mandates practices like:
Creating, claiming, and optimizing your GBP
Targeting local keywords through GBP descriptions, GBP posts, and content
Acquiring local backlinks
Inciting local reviews
Those same practices earn Google's favors across both Google search and Google Maps, of course, as one might expect. Google Maps results don't just hinge on proximity, as we'll cover next, but also on authoritativeness, relevance, and search intent. And those are exactly the qualities local SEO seeks to ensure for your business in Google's eyes.
If you'd like additional information on this subject, you may also consult our article on building robust local SEO strategies. If not, you may keep the key takeaway; local SEO plays an integral role in Google Maps marketing, and it all starts with a stellar GBP profile.
#2 Organic Google Maps marketing
The second component, which some argue overlaps with the first, comes in organic marketing efforts. Much like local SEO, these practices seek to organically improve your Google Maps rankings – as the name suggests.
Here, too, the foundation comes in an optimized GBP profile. However, this set of practices specifically and narrowly targets two organic search subsets:
Proximity results; "near me" search results with location data enabled. In this case, Google prioritizes proximity – so a proper GBP profile will give your business a ranking chance.
Ranked results; area-specific search results with location data disabled. In this case, Google can't gauge proximity and will thus serve higher-ranking businesses first.
You can't do much about proximity, of course, except for practices like:
Accumulating many positive local reviews. Proximity is not the only factor at play; reputability is crucial as well.
Ensuring Name, Address, and Phone number (NAP) information on your GBP profile is accurate and identical to other online listings. Anything less and you may not appear in results regardless of proximity.
Add keyword-relevant descriptions to your GBP profile. Your offerings, location, skills, and other business characteristics also factor heavily – and inform Google of your business's relevance to searches.
For a visual example of the final point, alongside informative, rank-worthy GBP profiles, consider the following: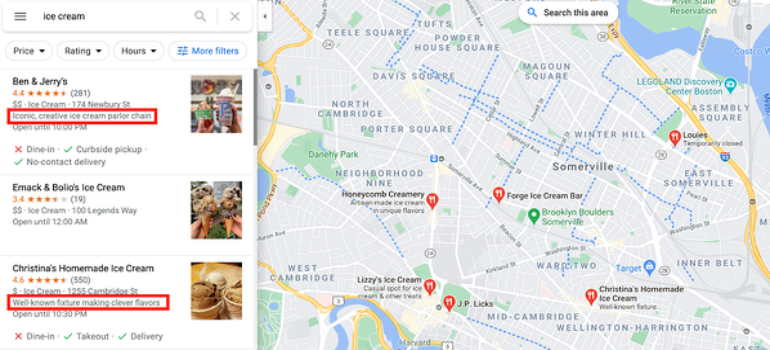 But ranked results you can do much about, and the majority of your options come in local SEO. The practices outlined in the previous section directly enhance your rankings, and thus your Google Maps marketing effectiveness. This is why the two overlap as much as they do, and why SEO services NYC businesses seek stress local SEO so heavily.
#3 Paid Google Maps marketing
Finally, PPC could not be absent from any marketing efforts, including Google Maps. There are times when you can't organically outrank your competitors, or you can't organically rank for valuable keywords. That's what PPC, an invaluable paid asset, serves to address and augment your campaigns.
The premise of paid Google Maps ads is fairly simple, and here we'll cite Google's articles for additional help:
Enable location extensions for your Google Ads account. This will allow your location to show up alongside your listing.
Bid by location. The primary fuel of your local campaigns, this will allow you to target specific business locations and address-adjacent areas.
Optimize your keywords for local value. Despite being PPC, Google ads still need to know which searches to target for you.
Should your ads succeed, the visibility benefit is of course enormous and likely self-evident. As Google's visual example illustrates, paid ads appear above organic results:
That said, as a PPC agency NYC trusts, we have to outline other crucial PPC practices – and accompany them with relevant articles. Namely:
Keep an eye on PPC developments. Jerry Dischler, Google's vice president and CEO of ad writing, has announced a handful of new Google Ads features for 2022. Those include smarter bidding, expanding automation, and more, which you could likely leverage.
Mind PPC trends. Beyond Google alone, PPC trends increasingly dictate personalization, remarketing, and more. Remain mindful of such trends and incorporate them into your strategies.
Monitor your campaigns' effectiveness. Establish PPC Key Performance Indicators (KPIs) early, and monitor them diligently through your Google Ads account's insights. Identifying issues early can prevent underperformance and resource misuse.
Finally, as with all marketing campaigns, remember to treat PPC as a complementary ally. PPC alone cannot ensure success without a proper organic foundation in place. Should you have one, it can effectively elevate your campaigns to new heights.
Google Maps marketing: getting you on the map
To summarize, Google Maps marketing seeks to get your business on Google's proverbial and literal map. It does so through both organic and paid means, as well as in tandem with strong local SEO. Each of these subsets serves its own purposes, from establishing relevance and authority to pinpointing your very location. Still, the three synergize harmoniously to help your business thrive and attract local audiences.
We sincerely hope you found this article helpful. Should you need additional information on this subject or anything else marketing, please don't hesitate to contact us. Our teams will be happy to help you in all your digital marketing endeavors, from SEO to PPC and beyond.